HAOVAC Biotechnology Co., Ltd. (hereinafter referred to as "HAOVAC Company") located in China National Economic Technology Development Area, China National Hi-tech Industrial Park, China Tianjin Wuqing Development Area. It belongs to the core area of Beijing-Tianjin-Hebei economic cycle. It is the intermediate node of Beijing-Tianjin-Hebei coordinated development of Beijing-Tianjin urban spindle. The company was established in August 2012 and passed the acceptance of GMP of Ministry of Agriculture on December 30, 2014. In August 2016, HAOVAC Biotechnology Co., Ltd. Joined China National Agricultural Development Group Co., Ltd., and the national team of China's animal health industry added a new force.
China Agricultural Development Group Co., Ltd., (hereinafter referred to as CNADC) a central agricultural enterprise directly managed by the State-owned assets Supervision and Administration Commission of the State Council, is the former China National Fisheries (Group) Corporation on the basis of reorganization with the China Animal Husbandry (Group) Corporation. It was renamed in October 2004. As the largest, comprehensive and internationalized state-owned central agricultural enterprise in the country, China Agricultural Development Group is committed to international cooperation, development and utilization of agricultural and fishery resources; Domestically CNADC keeps in mind its aim to serve "agriculture, rural areas and farmers" and actively promotes the development of agricultural industrialization. After years of development, CNADC has gradually built up three core businesses: development of strategic resources, with focus on pelagic fishing and agricultural resource exploitation; research and development , manufacturing and distribution of biological vaccines, vet-medicines and feed additives; and related supporting services of agriculture, animal husbandry and fishery. In view of the position and advanced management experience of QYH BIOTECH COMPANY LIMITED in the poultry vaccine industry, CNADC commissioned it to manage HAOVAC Company.
HAOVAC company currently specializes in biological products and has a leading international production line. There are 6 production lines, including chicken embryo vaccine production line, cell vaccine suspension culture production line, genetic engineering vaccine production line , antibody production line, bacterial vaccine production line , which can provide specialization, characteristic, customized products for the market. The main workshop is one of the most advanced production processes GMP workshop in the domestic industry with floor area of 7398 square meters. It can be used as a base for the transformation of scientific and technological achievements of new animal biological products. The GMP grade purification animal experimental center is a single-story building with a purification area of 2445 square meters and an experimental animal center with a quality inspection room area of 336 square meters. It is one of the highest purification level and largest animal experimental centers in the biological products industry in China. It not only meets the needs of manufacturing and research and development, but also provides an animal experimental platform for universities and scientific research machines engaged in biological products research. It promotes the combination of production, learning and research.
HAOVAC Company is a window enterprise of Beijing-Tianjin-Hebei science and technology of CNADC. HAOVAC Company will be closely around biological products, committed to based on the pastoral department, society-oriented, industry-oriented, to shape the genetic engineering vaccine research platform, scientific research results transformation platform, animal experiment and experimental animal platform.
In 2018, HAOVAC Biology made great efforts, and got the qualification of CNAS. It is the first manufacturer in the China Animal Husbandry system to obtain the certificate. This result lays a solid foundation for the construction of the three platforms of HAOVAC Company.
We will uphold the concept of "better life starts from bit by bit" and take diversification, specialization and customization as the strategy to provide for the development of animal husbandry in China.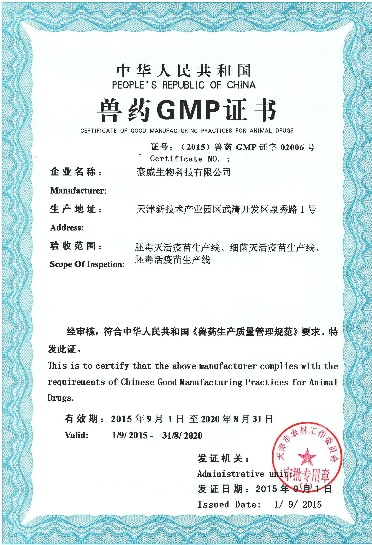 No.

Vaccine Product

specification

1

Newcastle Disease and Avian Influenza(H9 Subtype) Vaccine, Inactivated (Strain La Sota +Strain WD Strain)

250 ml

2

Newcastle Disease, Infectious Bronchitis , Egg Drop Syndrome and Avian Influenza (H9 Subtype) Vaccine, Inactivated (Strain La Sota + Strain M41 + Strain AV127 + Strain NJ02)

250 ml

3

Newcastle Disease and Infectious Bronchitis Vaccine, Live (Strain La Sota + Strain H120)

1000 dose

2000 dose

4

Newcastle Disease and Infectious Bronchitis Vaccine, Live (Strain La Sota + Strain H52)

1000 dose

5

Newcastle Disease Vaccine, Live (Strain La Sota)

1000 dose

2000 dose

6

Newcastle Disease Vaccine, Live (Strain CS2)

1000 dose

7

Newcastle Disease Vaccine, Live (Strain C30)

1000 dose

8

Infectious Bronchitis Vaccine, Live (Strain H120)

1000 dose

9

Infectious Bronchitis Vaccine, Live (Strain W93)

1000 dose

10

Infectious Bursal Disease Vaccine, Live (Strain B87)

1000 dose

11

Avian Pox Vaccine, Live

1000 dose